All our Miniature American Shepherd dams are chosen for our program because they have solid, fun loving temperaments. They also pass all health clearances suggested by the AKC parent club and are CHIC certified through OFA! Our miniature american shepherd dams are titled in various events to prove that they are top quality dogs worthy of being bred. We title our dogs in conformation, rally, obedience, scentwork, fastcat, trick dog and also do canine good citizen titling. Waterfall Miniature Shepherds are socialized around kids, cats, other dogs, and people. They are exposed to many loud noises and surfaces so that life in the city or the country is just normal to them and nothing to be afraid of.
We love to see them go on to finish titles in various events that will showcase their intelligence and their beauty. It is important to us to provide you with a well balanced dog that will make not only a great family pet, but a great competitor in the ring, if you love to show your dogs. Many people intend to get a mini American puppy just as a pet, but some decide to show or train their minis to be wonderful adult dogs who earn titles, do therapy work and a few are even service dogs! Although in general we don't recommend mini Aussies as service dogs we have confidence that if you train the dog appropriately and socialize it well, they will be up to any task you ask them to do. You can find our great minis showing in many states, including Wisconsin, North Dakota, Iowa, Nebraska, Illinois and even Tennessee and Florida!
Waterfall Mini American shepherds command attention wherever we go in public. People remark on how beautiful they are, and see them perform and are astonished how smart they are. We want these traits passed on to the puppies for their new homes as well. One of our miniature aussies that was brought into AKC as a Miniature American Shepherd is my personal service dog. He started out with tactile pressure and mitigating the situation to keep me from having anxiety and panic attacks. He was started on scentwork training and has taken that to letting me know that I'm about to get sick from something I ate, low blood sugar, and most recently low iron and my impending dizziness I get from that. I would like to train my dogs for more things to detect as this has really become an interest of mine.
 Check out our Waterfall Miniature American Shepherd Facebook page to see what our mini Americans are up to in the rings and even fun training videos!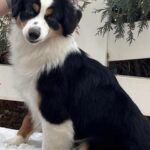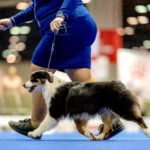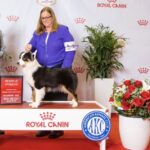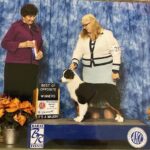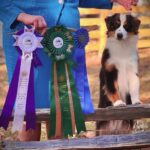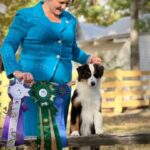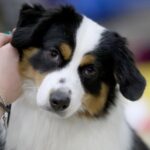 GCH. Waterfall's Finely Tuned TKN, BCAT
Tunee is a Paisley daughter and is our second AKC Champion, but the first we campaigned to a Grand Champion. She is a busy girl and often called spider monkey for her skills. She is a fast learner and earned her trick dog title by 4 months of age. In the summer of 2023, she earned her BCAT rather quickly as she learned that game was the most awesome thing in the world! She is training in scentwork, obedience and rally. Tunee is 16 1/2″ tall and 25lbs.
She will be 2 years old in January of 2024.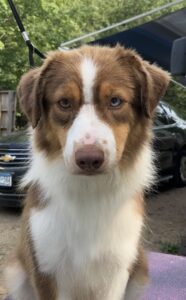 U-CH, SPOT ON Waterfall's All Eyes On Me TKN, FDC

Tease is a Disney daughter and is our second UKC Champion. She is a happy girl, fast learner and earned her trick dog title with Arielle. She's so excited to do everything and anything that I am taking on her training for awhile as she just is a bit too much energy. She is training in obedience and rally. Tease is just under 17″ tall and 26 lbs.
She will be 2 years old in January of 2024.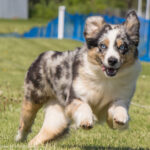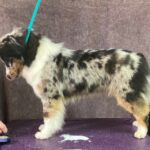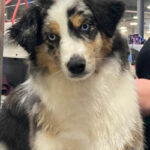 SPOT ON Don't Tell Me ! @ Waterfall, TKN, VHMA, BCAT, FDC
Hush is a miniature American Shepherd who is 15″ tall and about 24 lbs! She is major pointed in AKC, and has titled a little bit in 2023 after having her first litter of puppies. Expect to see her out doing some fun things! She is training in obedience and rally.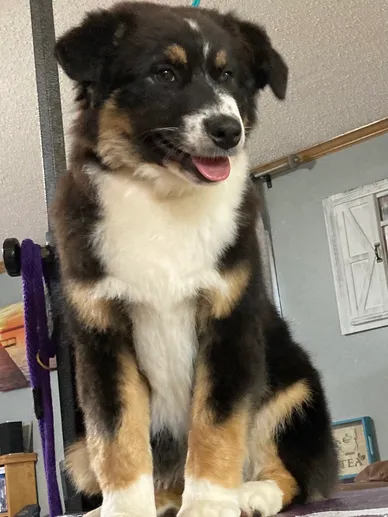 Waterfall's Pixi Dust, NTD, SPOT ON
Pixi is our 17 1/2" miniature Australian shepherd girl. She is super sweet like her dam Candy! Pixi is a very mellow and calm girl. However, squirrels and rabbits have no chance with her! She is not AKC eligible so her titles come from another venue! She has started doing some more training now that we have something she can do!
Pixi has produced a couple of fabulous mini american shepherd girls! She will be having a Miniature Australian shepherd litter in 2024!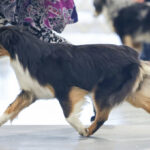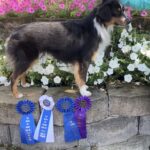 U-CH, SPOT ON Waterfall's Write Your Story TKN, FDC, BCAT, CGCA, CGCU
Gypsy is a smart and methodical worker. She loves people and will figure out a way to get to each person she wants to meet. She has been working on titles since June 2023 and has really put quite a few on in her few months. She has been shown in AKC a few times and was brought out in UKC to help Arielle learn handling some more in not such a competitive setting. She earned her championship easily and gave Arielle the confidence to do it more. Gypsy is training in obedience, rally and nosework. Gypsy is 16 1/2″ tall and 27 lbs.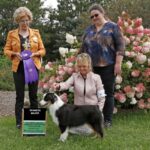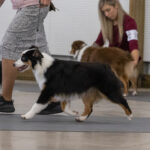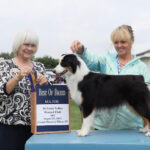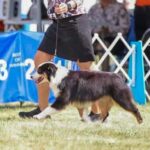 CH, SPOT ON Waterfall's Don't Burst My... TKN, FDC, CGC, BCAT
Bubbles is our first bred-by AKC Champion. She finished her Championship rather quickly from the puppy classes and achieved a Puppy of Achievement award. She also earned her Novice trick dog title at 4 months old. In the year since finishing her championship she has earned her Canine Good Citizen and her Farm Dog Certifications. In the summer of 2023, she also earned her BCAT title in Fastcat. She is currently training in scent work and obedience. Bubbles is 16 1/2″ tall and 25 lbs.
Our Miniature American and Australian shepherd puppies are a family member for life!
Yours and our family! Our mini pups are guaranteed to be free of congenital health diseases. With our top of the line testing and picking Miniature American Shepherds for their quality, we stand by our dogs and guarantee you will find your pup to be the best dog you've ever had!