Our Miniature American Shepherd puppies are a family member for life!
While our Miniature American Shepherd puppies become yours and our family! We put an emphasis on Waterfall Miniature American Shepherd Puppies to be healthy of congenital health diseases. With our top of the line testing and picking Miniature American Shepherds by quality, we stand by our dogs and guarantee you will find your pup to be the best dog you've ever had! Therefore we do have a health guarantee on our pups. In fact the state law is a minimum of one year while we have a contract that we guarantee our pups will not get any of the congenital health issues that are tested via DNA panels.
Miniature American Shepherd puppies are held with a non-refundable $350 waitlist deposit, or a $500 deposit to reserve an available puppy. No exceptions!
Please read through our Terms & Conditions to understand what we include and how you can reserve your new Miniature American Shepherd or Australian Shepherd puppy.
You can also visit us on Facebook to see more recent images of available puppies, or contact us by email and we will be happy to send you more photos of the puppy you're interested in!
Bookmark this page and check back soon, as additional litters will be posted when they are available!
To apply to purchase an available Miniature American Shepherd puppy, please click the button below.
Please do NOT text about available pups before filling out an application.
Then check out the facebook page for the most recent pictures of puppies! While we do not update the website often with puppy pictures as it is hard to fit 4-10 pups and time consuming.
Black tri males
Miniature American Shepherd puppy
$1500
Blue or red Merle females
Miniature American Shepherd puppies
$2000
Red tri male/females
Miniature American Shepherd puppy
$2000
Black tri females
Miniature American Shepherd puppy
$1500
I received my first Waterfall Mini puppy this past week and couldn't be happier with his temperament and overall quality. I knew Rebecca gave her puppies a solid beginning foundation but never got to experience it for myself until now. My puppy is extremely confident, easy going, loving, intuitive, responsive and absolutely stunning. Rebecca's years of experience and dedication with this breed is quite apparent when I catch myself staring at my gorgeous, well rounded puppy. Thank you for entrusting me with one of your puppies Rebecca! I love him!
Joe PrescottExquisite Aussies
After a failed rescue I was fragile and nervous to fall in love all over again. Rebecca(owner) contacted me personally and talked to me for hours about what I was looking for! After our conversations I trusted her to pick out the perfect puppy for my family! And did she ever come through!
Frank came home with us in January 2021 and he is the best thing that's ever happened to our family. He is the smartest dog! Rebecca would constantly check in to be sure everything was going well. She sent all certifications, papers and a puppy care pack!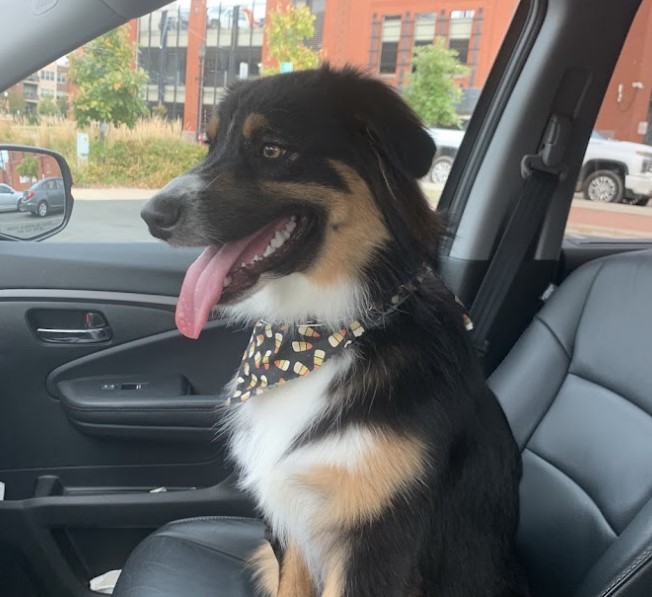 Apryl-Minnie-sota
Previous
Next